The Eclipse, Reboot and Alignment Was a Complete Success~

I urge you all to Click Here to read this on the Galatic Free Press website. They have set this up beautifully, and I feel you will enjoy it much more there. If you can, take your time with it, so you can really absorb their message. It's quite lovely.
Hugs,
~Jean
Photo By Earth Ally Will Harader Mt. Shasta Mountain Eclipse 6:30pm
Greetings Love Beings~ The Eclipse, Reboot and Alignment was a Complete Success.The Completion of the Inner and Outer Connections has been made.
We are getting reports from around the Planet from many different sources. Many are feeling, something has really shifted and indeed it has. Love has Landed in a Deep Way. Many will be experiencing the effects of this Energy in the coming days and weeks. The Reality of Love and Truth has Been Grounded. Love and Light Win! Prepare for Grand Events, Heaven Decreed.
Ann Kreilkamp Blogged Her Experience from the Eclipse Here is the quote: "And I happened to close my eyes. And I felt the whole earth humming . . . humming with energy, as if tremendously, ferociously alive. This feeling was instantaneous and shocking in its intensity.
And not just Earth, but her atmosphere. And not just her atmosphere, but all of space, all of the cosmos, all and everything, a vast field of energy humming, globules of light  dancing burbling birthing . . .
I've known about this field of possibilities, this zero point field, the presence of Being, the plenum within which forms arise and fall — and I've sensed it experientially for years. But never before did I feel I was vibrating with Earth from inside her, rather like being inside one of the hot springs in Yellowstone, a sense of energy onrushing up, boiling over, but coming from everywhere,  an effervescent bath of birthing beauty."End Of Quote
Daily Sun: 21 May 12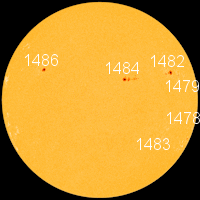 None of the sunspots on the Earthside of the sun is actively flaring. Solar activity is low. Credit: SDO/HMI
Our Sun is rather quiet right now, However, Earthquakes are increasing. Italy was quite shocked with their recent Quakes. This area has not seen any activity like this since the 1300′s. A Few Lives were Lost and the Interesting thing about this event, many churches were destroyed in the Process. We are Seeing Increased Volcanic Activity, many have had to evacuate in Indonesia as a result of the amount of ash in the Air.
~ Galactic Earth Daily Truth Report:http://soundofheart.org/galacticfreepress/content/galactic-earth-da…
Earth Ally Report:http://soundofheart.org/galacticfreepress/content/earth-allies-2052…
Earth Ally Dan with A Daily Energy Report:http://soundofheart.org/galacticfreepress/content/new-earth
Thanks to Snowcrest.net
During Our Eclipse Event we Headed for Shasta Mountain .All the way up the Mountain, We Completed the Meditation for this Event to dissolve the old grid completely and Establish Universal Law! We Thanked the Energy for Rebooting Everyone into True Family, Joy, Unconditional Love, Truth, Reality, Equality, True Peace, and The Right To Love In Complete Freedom to Love. Indeed, This is God's Planet! The Gods Have Landed~
Here is a Quote by Opalescentwords Blog Today:
"Yet, there is light coming through the darkness, legitimate forays into hope in the form of shifts of power and rationality taking the reins of leadership. You are in for some surprises, I think, and I'm eager to see what could unfold in the coming months. It feels like it's time for the card house to fall and a new world to be built up, but it has to be timed just right so no one gets misplaced. It's already started. Once it gets up to full speed, we'll see the kind of change that has been promised and hoped for for eons of time.
One of the big flashing signs that's lighting up the way to change just happened over the weekend, in the new moon solar eclipse. The energies it opened up were ready to pour through and we were ready this time to receive them. They will keep coming in and no amount of intentional manipulation of weather, atmosphere, news or anything else can keep them from anointing everyone on this globe. You can refuse them but they will nonetheless soak you." (End Of quote.)
Many from about 100 Mile radius were At Shasta Mountain. Shasta has been waiting a Long Moment for this Event. Lines of Cars, lined the road and many different groups gathered Hugging in Circles, Playing drums, flutes and Oming. We went Up about 8 miles, waved and blessed everyone In The Highest Love and Thanked them For their Presence. We landed, where several groups had gathered amongst the Tree's Facing the Event with the Skyline of Cloudships. We Felt Family in the Air, everywhere. We Brought All of Humanity's HigherSelves With US. No One was Left out of this Event. Aware or unaware, everyone Fully Participated as Per their Contract in the Divine Plan.
 Below is the Video of the Code's Being Activated as We stood on Shasta Mountain for this Event. Notice the Blue and Violet Energy Orbs which appeared. These Significant Colors are the Planet Being Returned to Her Rightful caretakers.
http://www.youtube.com/watch?v=ZZkOk5JI9hs
What Our Team experienced during this Meditation while we were on the Mountain, is they actually saw those who wanted to continue in the illusion, just peacefully Leave. They did not only experience this once, but also again today when They connected. This is How Powerful Love Is. Love has Requested a Peaceful Smooth Transition and You can Be Guaranteed this is the Outcome. From Now on, the Only Outcome which can occur on this Planet is what is Best for the Greater Good of All, in All Love IS.
When We got back to share With Our Love Party, which was still in progress, they Looked at us In AWE. All They Could See Was Bright Light.
video:http://www.youtube.com/watch?v=lcWVL4B-4pI
Through this Event, We Have Become Our Lightbodies and Now this Becomes All of Humanity's Destiny. The Energies are now really going to become Intense. This indeed is the Energy which simply will not be denied, the Power of this Love is Creation. Love is the Most Powerful Energy In All of Creation. Creation and Love are The Universal Law. This Holds the Highest Law as Well On this Planet. This is the bottom Line.
Since we triggered the Stargate Opening, The Energies are now really going to become Intense. We have shared before these energies are going to be Processed within Everyone for the Next 30 Days Leading up to the Solstice. This indeed is the Energy Event which simply will not be denied, the Power of this Love, is Creation. The Creator's Energy of Love is the Most Powerful Energy In All of Creation. Creation and Love are The Universal Law. This Holds the Highest Law as Well On this Planet. This is the bottom Line.
Mike Quinsey Salusa Update Today "We are quite active just now, as a number of events are being staged for your benefit. They will be fronted by our allies, and we will so to say stay in the shadows and ensure all manifests as intended. When the need has arisen we have been outgoing, and it no longer matters if you witness our actions as we have no reason to hide them. It will not be long anyway before we will find ourselves free from the attention of the dark Ones, and able to mix with you. We have provisionally sought assistance from some Leaders who work with the Light, so that at last Disclosure can be announced. We desire to tie it in with our intent to give a display of our craft, as a way of celebrating our re-union. As we have often remarked, there are many of you who are directly related to us and the other members of the Galactic Federation. So please bear with us as the weeks pass by, as our promises have not been forgotten. We are true to our word and a series of great events are about to be unleashed upon you.
 What we were able to Collectively Accomplish During this Global Event were several things. First, the Final Energy push for the complete dissolution of the old grid which will assist us greatly in the final removal of those powers that were. We also Accomplished the Final Reboot and We gave the Codes to the Planet for us to receive The Planet and Giver Her, Her Rightful caretakers.
Decreed by Heaven, Only…..   To Read this Entire Update with The Scynchronostic Music you can Follow this Link:http://soundofheart.org/galacticfreepress/content/galactic-free-pre…
Related articles