Posted on September 22, 2013
by cosmicconvergence2012
Thanks to R.
Never before in the modern era has humankind been confronted with a nuclear disaster the likes of Fukushima. Truly, Japan has become the location of the greatest nuclear catastrophe in history, one that has defied countless attempts to resolve it. Although it was once imagined to occur in China on the silver screen, Japan has experienced the actual "China Syndrome" — an apocalyptic nuclear meltdown(s). Once again, Japan is the site of an unparalleled atomic event whose aftermath has no end in sight.
Before the nuclear event even took place a vast area around Fukushima was rendered virtually uninhabitable by the 3/11 earthquake, seaquake and resulting tsunami.  Here's an accounting of the destruction to life and property, caused by the natural cataclysm, which has never been reported in the mainstream media (MSM).
"A total of 196,559 buildings were destroyed or damaged. Around 27,000 people were killed. More than 460,000 were made homeless and sought refuge in shelters. This included 150,000 in Miyagi Prefecture, 47,000 in Iwate Prefecture and 130,000 in Fukushima Prefecture. In the first three days after the disaster Japan's Self Defense Forces (the Japanese military) rescued 66,000 people, many of them stranded on hilltops and rooftops and among debris. Because reaching them by land was so difficult many had to wait to be retrieved by helicopter, which could carry only a few people at a time. Thousands of others evacuated their homes due to the crisis at the Fukushima nuclear power plant."[1]
The earthquake and subsequent tsunami in March of 2011 not only devastated the northeast coastline of Honshu Island, it also triggered a series of nuclear incidents many of which went completely unreported. Those various incidents seemed to have cascaded within the same window of time in order to guarantee the gravity of the cataclysm that humanity must now face.
These events continue to reverberate with awesome consequence up to this very day, as they will into the foreseeable future. It does appear that the message they bear has not yet been heard, or understood, by the civilization which created this 'nuclear drama'. However, as long as it goes unheeded, the parade of seemingly unsolvable problems will continue to present without relenting.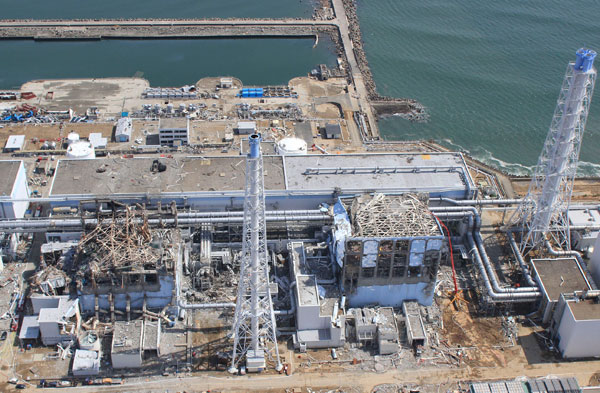 Fukushima Daiichi Nuclear Power Plant
Fukushima is nothing like Chernobyl; it's much worse!
We've all heard by now the many comparisons to the 1986 nuclear disaster at Chernobyl in the Ukraine. While that was an extremely serious nuclear accident, Fukushima is far more serious. Fukushima is not only exceedingly more difficult to manage in real time, it presents current and future remediation challenges that go far beyond Japan's capacity to address in any meaningful way.
What makes Fukushima the most formidable of all nuclear catastrophes?
Just like the 2010 BP oil spill in the Gulf of Mexico, Fukushima's fate directly concerns the contamination of water as it continues to affect a major body of water. Not just any body of water, but the largest on Earth. The world has watched in horror as tons of radioactive water have been dumped off the Honshu coastline only to be conveyed wherever the Pacific decides to transport it via both superficial and deep ocean currents.
It is this interaction with water which makes this nuclear disaster so unique and problematic. Their only way to cool down the core and rods is with water. The water then has to be stored until the radioactivity can be properly addressed. Except that the volume of cooling water necessary is far exceeding TEPCO's capacity to effectively deal with it.
Japan's location in the Ring of Fire is the most seismically active on the planet.
Earthquakes have fractured the landscape of Japan and surrounding undersea topography for decades, perhaps even centuries. The obvious result of sustaining so many 5.0 plus earthquakes is that the geology has been fractured and fissured, cracked and creviced like no place on Earth. When two major tectonic plates collide ….
"The 2011 Tohoku earthquake struck offshore of Japan, along a subduction zone where two of Earth's tectonic plates collide. In a subduction zone, one plate slides beneath another into the mantle, the hotter layer beneath the crust. The great plates stick and slip, causing earthquakes. East of Japan, the Pacific plate dives beneath the overriding Eurasian plate. The temblor completely released centuries of built up stress between the two tectonic plates, a recent study found."[2]
The real conundrum underlying this predicament is that there is no letup in the frequency or severity of earthquakes, both land-based and undersea, which continue to assault the four major islands of Japan. Therefore, the "fractures and fissures" will only get worse which will translate to myriad opportunities for the water table, ground water and other water supplies to become irreversibly contaminated with radioactivity.
6.9 Quake jolts southern Japan, felt in Tokyo | Reuters – September 3, 2013
Click Here to continue reading.
Related articles