Also, I'm sharing the December video report in which Clif High predicted this occurrence, which according to Clif and the article above is not exactly as the US MSM has described. Russia and China have played an important role in this breakthrough.
I remember when first reading reports that Kim and Donald would meet, it was if only Donald existed in the world and was working towards such a meeting. Yet, I knew how much diplomacy both Russia and China have been employing in this area in an effort to bring the situation to a safe landing. I've been waiting for someone else's perhaps more reality based analysis of this situation, and now I think we finally have it.
* * *
Dilyana Gaytandzhieva
South Front
Tue, 27 Mar 2018 13:18 UTC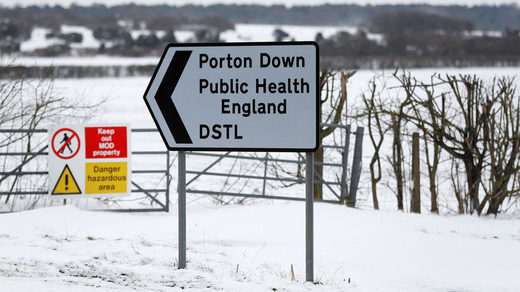 © Peter Nicholls / Reuters
Signs prohibiting access near to the Porton Down Defence Science and Technology Laboratory, near Salisbury, Britain, March 19, 2018.
Note: I was first introduced to Dilyana's formidable research abilities through George Webb, and this new, quite lengthy article lives up to her previous standards with, I am sad to say, many upsetting revelations. The entire article is worth scanning, but I think reading it is maybe only for specialists. The subject areas, the photos, told me so much.
For me, the most important aspect of this article comes at the very end, and since I'm afraid because of its placement that many of you will miss it, allow me to point you to it:
US official lied in Brussels about the Pentagon biolaboratories
Robert Kadlec, Assistant Secretary at the US Department of Health, categorically denied the existence of an American bio-weapons program at a seminar on the threat of biological and chemical weapons. The event was organized by the European Parliament on 7th March in Brussels. Asked why the information about the US military bio-laboratories in 25 countries bordering on Russia, China and Iran (the Pentagon's main rivals) is classified, Kadlec responded: "They are not classified, they are openly available to anyone who wants to look at them." (full video of Robert Kadlec's comment here) [I suggest you take time to watch this shocking Facebook video on Dilyana's page}
Documents about the Pentagon offshore bio-laboratories prove him wrong though. . .  [and Dilyana continues on with her researched documentation, which concludes this article. ~J]
 * * *
I've tried to select the essence of this article from Moon of Alabama, whose efforts are always valuable:
Yulia Skripal no longer in critical condition, say Salisbury doctors
The condition of Yulia Skripal, who was poisoned with a nerve agent in Salisbury along with her father, is improving rapidly, doctors have said. Salisbury NHS foundation trust said on Thursday the 33-year-old was no longer in a critical condition, describing her medical state as stable. Christine Blanshard, medical director for Salisbury district hospital, said: "I'm pleased to be able to report an improvement in the condition of Yulia Skripal. She has responded well to treatment but continues to receive expert clinical care 24 hours a day." Her father's condition is still described by the hospital as critical but stable.
Only yesterday the Skripals chances to survive was claimed to be 1 out of 99. Nerve agents are deadly weapons. A dose of ten milligram of the U.S. developed VX nerve agent will kill 50% of those exposed to it. The 'Novichok' agents are said to be several times more deadly than VX.
. . . and at the end of the article:
The Skripals are getting better. Good for them. But their resurrection from certain death is a further dent in the British government's claim of 'nerve agent' 'of a type developed by Russia'.
The whole anti-Russian campaign constructed out of it is just ridiculous and deeply dishonest. The five page propaganda handout the British provided to other governments is a joke. It provided no solid facts on the case. To respond to it rationally, as Russia tries to do, makes little sense.
An editorial (recommended) in the Chinese Global Times captures the utter disgust such behavior creates elsewhere:
The fact that major Western powers can gang up and "sentence" a foreign country without following the same procedures other countries abide by and according to the basic tenets of international law is chilling. … Over the past few years the international standard has been falsified and manipulated in ways never seen before. … It is beyond outrageous how the US and Europe have treated Russia. Their actions represent a frivolity and recklessness that has grown to characterize Western hegemony that only knows how to contaminate international relations. Right now is the perfect time for non-Western nations to strengthen unity and collaborative efforts among one another.
Resurrection or not – the result of the 'Novichok' nonsense will not be to our 'western' favor.
* * *