The video below starts off with the statement of the Russian Ambassador. He doesn't mince words, so perhaps his words are the best way to sum up the many stories about this crazy, nightmarish episode of a power struggle gone far, far astray in a likely attempt to lead us to war.
This deadly game, the Skripal deception — is a replay of Iraq's phantom 'weapons of mass destruction' says ex-Pentagon official. No surprise here!
Moon of Alabama, who does this sort of an article so well shows that since they have been caught lying, the effort has begun to walk this self-created situation backwards: "It's The Cover-Up" – UK Foreign Office Deletes Tweet, Posts False Transcript, Issues New Lies
In the past, we were asleep, but we're not anymore, and the alternative media has worked tirelessly to get the 'real' truth out — in an effort to prevent war. I wish we could say this is the end of such events, but I strongly doubt it.
UPDATE
The Russian envoy makes it clear that Russia isn't going to let this issue 'die' either, perhaps because to do so leaves the door open for  the attempted perpetration of other similar lies, maybe in Ukraine or North Korea — I'm hearing now that Afghanistan is next, but in truth, only God knows where!
The United Nations Security Council (UNSC) has gathered at Russia's request at its New York headquarters, to discuss the poisoning of ex-double agent Sergei Skripal and his daughter Yulia in the UK last month.
UPDATE: Nikki Haley's response in the UNSC today. IMO, this statement is filled with fearful emotion, but zero verifiable facts. Remember the Iraqi babies being torn from their cribs? I hope the world doesn't fall for this again. Sounds to me like the ex-Pentagon official is correct: This is a replay of Iraq's phantom 'weapons of mass destruction.'
* * * 
This article is presented on sott.net and is accompanied by the following comment:
Comment: It may have seemed hopeless 15 years ago, but there is finally a group of nations willing not only to speak the truth, but also to back up their words with actions. And it would have been impossible if not for the resurgence of Russia as a world power. The U.S. and Israel are no longer free to pillage and destroy other countries. Iraq and Libya were not foreign policy failures. They were successes, in that the U.S. and its allies achieved their goals: spreading chaos and fueling insecurity in order to maintain their interests. But they have failed in Syria. ISIS is all but destroyed, al-Qaeda is on the ropes, the attempt to use the Kurds to break up Iraq failed, and the attempt to use the Kurds to break up Syria is potentially just a pipe dream. It's a new world: Thierry Meyssan: Out of Syria, a new world equilibrium is rising
* * * 
The video below is unusual, because we are able to see the behind-the-scenes efforts of many delightful people helping to make the signing of this agreement successful.
 * * *
. . . and, of course, the Syrian nightmare will continue — anyway . . .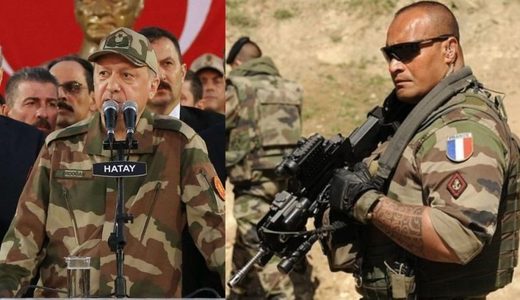 French military personnel have been deployed to Syria and are now patrolling areas in northern parts of the country under the control of the Kurdish-led Syrian Democratic Forces (SDF), according to reports by the Kurdistan 24 news agency, citing Rezan Gilo, the joint chief of defense of Syrian Kurdistan.
An unknown number of French troops reportedly entered the border town of Tell Abyad and the city of Manbij this afternoon after US troops withdrew.
Turkey has repeatedly threatened to attack the city of Manbij and other parts of northern Syria after its successful cross-border military operation in Afrin.
On March 29, French President Emmanuel Macron vowed to send troops to the area to deter any Turkish aggression, according to daily newspaper Le Parisien.
The newspaper also claimed that the deployment of troops from the French Army to Syria was being coordinated with the US, which already operates a number of military facilities throughout SDF-controlled parts of Syria.
This latest development seemingly indicates that US President Donald Trump was referring to France when he said the US would be leaving Syria very soon "to let others take care of it."
Although Turkish President Recep Tayyip Erdogan said he was saddened by Macron's "wrong stance" on Turkey's anti-SDF operation in Syria, it's unclear if he is willing to press ahead with the planned assault of other SDF-held areas near the Syria-Turkey border in light of the presence of French soldiers in the path of Turkish soldiers.
Turkey has long been hostile to the SDF, as it considers the group to be an affiliate of the outlawed Kurdistan Workers' Party (PKK), which is designated a terror organization by the US, the EU and Turkey, and has fought a bloody war against Ankara for over three decades.
The Turkish military launched operation Olive Branch in January to oust SDF militants from areas in northern Syria near Turkey's southern border. The offensive has yielded considerable territorial gains to Turkey-backed militants, who successfully pushed Kurdish forces out of Afrin and its surrounding settlements.
 * * * 
You can read this article at your leisure, but I just want to take a moment to ask which is more important, using 'proper' language filled with lies, or using 'street' language based on truth?
Here's a very simple example: Saudi Arabia has been allowed to sit on the Human Rights Council, even though they are bombing Yemen and creating a humanitarian nightmare there. Please note the absolute contradiction in values.
Duterte is actually caring for his people, actively cleaning up the drugs in his country in what may — or may not be a brutal fashion, and they are trying to take him to the ICC. Here, in our country, however, the opioid crisis is destroying huge numbers of decent lives on a daily basis, so that we read many States are almost overwhelmed by the crisis, and while there is lots of talk, nothing is truly being done about it. By the way, Great Britain conquered China with opioids — the tactic was called the Opium Wars — and  it seems to me we are seeing a replay of this right here in our own country.
I personally think we need to mind our own business, leave Duerte alone to take care of his own people, and straighten out the huge mess that is our own country. That, my friends, is a full time job.
To me this is just another example of distracting us while they go about destroying us. How long are we — now called deplorables, by the way — going to continue to be fooled by such shows of falseness?