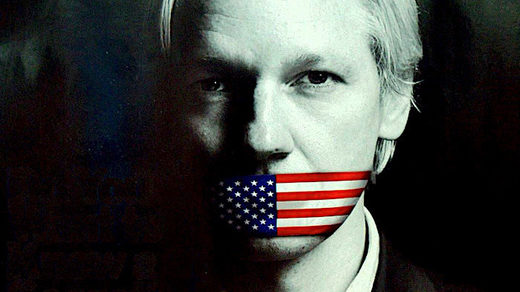 In this letter, twenty-seven writers, journalists, film-makers, artists, academics, former intelligence officers and democrats call on the government of Ecuador to allow Julian Assange his right of freedom of speech.

If it was ever clear that the case of Julian Assange was never just a legal case, but a struggle for the protection of basic human rights, it is now.

Citing his critical tweets about the recent detention of Catalan president Carles Puidgemont in Germany, and following pressure from the US, Spanish and UK governments, the Ecuadorian government has installed an electronic jammer to stop Assange communicating with the outside world via the internet and phone.

As if ensuring his total isolation, the Ecuadorian government is also refusing to allow him to receive visitors. Despite two UN rulings describing his detention as unlawful and mandating his immediate release, Assange has been effectively imprisoned since he was first placed in isolation in Wandsworth prison in London in December 2010. He has never been charged with a crime. The Swedish case against him collapsed and was withdrawn, while the United States has stepped up efforts to prosecute him. His only "crime" is that of a true journalist — telling the world the truths that people have a right to know.
Under its previous president, the Ecuadorian government bravely stood against the bullying might of the United States and granted Assange political asylum as a political refugee. International law and the morality of human rights was on its side.

Today, under extreme pressure from Washington and its collaborators, another government in Ecuador justifies its gagging of Assange by stating that "Assange's behavior, through his messages on social media, put at risk good relations which this country has with the UK, the rest of the EU and other nations."

This censorious attack on free speech is not happening in Turkey, Saudi Arabia or China; it is right in the heart of London. If the Ecuadorian government does not cease its unworthy action, it, too, will become an agent of persecution rather than the valiant nation that stood up for freedom and for free speech. If the EU and the UK continue to participate in the scandalous silencing of a true dissident in their midst, it will mean that free speech is indeed dying in Europe. This is not just a matter of showing support and solidarity. We are appealing to all who care about basic human rights to call on the government of Ecuador to continue defending the rights of a courageous free speech activist, journalist and whistleblower.

We ask that his basic human rights be respected as an Ecuadorian citizen and internationally protected person and that he not be silenced or expelled.

If there is no freedom of speech for Julian Assange, there is no freedom of speech for any of us — regardless of the disparate opinions we hold.

We call on President Moreno to end the isolation of Julian Assange now.
List of signatories (in alphabetic order):
Pamela Anderson, actress and activist
Jacob Appelbaum, freelance journalist
Renata Avila, International Human Rights Lawyer
Sally Burch, British/Ecuadorian journalist
Alicia Castro, Argentina's ambassador to the United Kingdom 2012-16
Naomi Colvin, Courage Foundation
Noam Chomsky, linguist and political theorist
Brian Eno, musician
Joseph Farrell, WikiLeaks Ambassador and board member of The Centre for Investigative Journalism
Teresa Forcades, Benedictine nun, Montserrat Monastery
Charles Glass, American-British author, journalist, broadcaster
Chris Hedges, journalist
Srecko Horvat, philosopher, Democracy in Europe Movement (DiEM25)
Jean Michel Jarre, musician
John Kiriakou, former CIA counterterrorism officer and former senior investigator, U.S. Senate Committee on Foreign Relations
Lauri Love, computer scientist and activist
Ray McGovern, former CIA analyst, Presidential advisor
John Pilger, journalist and film-maker
Angela Richter, theater director, Germany
Saskia Sassen, sociologist, Columbia University
Oliver Stone, film-maker
Vaughan Smith, English journalist
Yanis Varoufakis, economist, former Greek finance minister
Natalia Viana, investigative journalist, co-director of Agencia publica, Brazil
Ai Weiwei, artist
Vivienne Westwood, fashion designer and activist
Slavoj Žižek, philosopher, Birkbeck Institute for Humanities
sott.net Comment: A deafening silence around the world.
 * * *
An hilarious Op-ed by Neil Clark, which also points to what we can now begin to see are Nikki Haley's continuous lies. While I agree with Trump that the UN is corrupt, the story is a lot more complex than that, and it's complex because I think we are meant to be confused and deceived. Frankly, I don't think Nikki helps the situation one bit, because I don't agree with her on who actually is corrupting it. Click article title to continue reading.
 * * *
On a more serious note, a Reader has shared this very comprehensive video about Freemasonry that I urge everyone to view.
. . . and . . .
I'm not saying Trump is a Freemason, but the signs are all there. There are so many confused contradictions in his words and deeds. Why? No one really knows where he stands. I think they may be guessing, hopefully, that he is being controlled by the deep state because everything appears to point in that direction, but is this true? Or, are we all being allowed to believe this? The fact is that I think we do not actually know, not really, where Trump stands, and this could well be on purpose.
Get angry if you will that I dare to even bring up this subject, but I think it's better for us to be aware of the possibility — and carefully watching, than to be surprised when we least want to be — and can do very little about protecting ourselves. Remember that the Jesuits make war by deception, and nothing — absolutely nothing is as it seems — and always, always, our rulers hedge their bets; that is, they bet on both sides so they never lose.
Donald Trump Freemason? Explore some videos on your own via this link.
(Suggested by a Reader.)
If I recall correctly, after his inauguration President Trump had Andrew Jackson's portrait placed in the Oval Office. Andrew Jackson was a freemason.
These people apparently were all selected for explainable political reasons. Why then was Dolan selected?
 * * * 
Comment: Obviously, the UN will do nothing about this situation, because they never have done anything — but 'throw us a bone.' The nations of the world are going to have to insist  the UN become a law-abiding institution. That means, I think, that the people of the planet are going to have to hold their leaders accountable. Maybe then, things will begin to change.
Hopefully, the NAM is starting this process.
It looks like we likely have a long journey ahead of us, doesn't it? ~J
The Non-Aligned Movement has condemned the illegal policies of Israel, calling for collective efforts to end its occupation of Palestinian territories.
"We condemn the illegal policies and practices by Israel, the occupying power, against the Palestinian people, including, inter alia, the construction and expansion of illegal settlements, the demolition of Palestinian homes and properties, the acts of collective punishment against the civilian population, including the imprisonment and detention of thousands of civilians, disruptions of normal flow of people and traffic through various security checkpoints, closures and barricades, as well as the illegal blockade of the Gaza Strip," foreign ministers of NAM member states said in a statement at the end of their two-day meeting in the Azeri capital city of Baku on Friday.
The NAM statement called for collective efforts to bring a complete end to the Israeli occupation of the Palestinian lands, saying the regime must withdraw to territories it occupied before 1967.
The statement also condemned the killing and injuring of hundreds of Palestinian protesters in the besieged Gaza Strip during Land Day protests on 30 March by Israeli regime forces, and called on Tel Aviv to immediately end all such "grave breaches of the law."
The statement came as thousands of Palestinian protesters gathered in locations near Gaza's fence with the occupied territories to mark a six-week rally dubbed the "Great March of Return," which began last Friday.
The March 30 protests turned violent when Israeli military forces used lethal force to disperse the protesters, shooting and killing 20 unarmed demonstrators and injuring over 1,100 others.
NAM voiced support for the Palestinian people's "inalienable rights" to self-determination and freedom in their independent state of Palestine, with East Jerusalem al-Quds as its capital, adding, "We condemn and reject any notion and attempt to alter the status of East Jerusalem al-Quds into the capital of Israel, and call for countries with diplomatic missions in Tel Aviv to refrain from relocating their missions to Jerusalem."
Israel lays claim to the entirety of Jerusalem al-Quds as its "capital" while Palestinians want its eastern part as the capital of a future state for themselves.
Last December, US President Donald Trump recognized Jerusalem al-Quds as Israel's capital and vowed to relocate the US embassy in Israel from Tel Aviv to the occupied city.
Palestinian leaders have warned that the planned relocation would draw strong reaction in the region and deliver a death blow to any prospect of resolving the Israeli-Palestinian conflict.
 * * *


HERE is where the news suddenly got tough

— Last but not least, the news is so awful today — check the sites I always suggest, and while I haven't had time to watch it yet, this Forbidden Knowledge TV video seems to hit the nail on the head: Gabriel Do-Over
Introduction from Forbidden Knowledge: Alt Media Land has been afflicted by Mercury Retrograde. The suffering hopefully ends on April 15th.
There's surprising strife on Sibel Edmond's Newsbud channel. She's accusing James Corbett of engaging in a smear campaign against her. It's sad because the two collaborated on a weekly podcast for years.
Then I see Jason Goodman's YouTube channel has a status I've never heard of before. It's still up but he can't post new videos, in a situation that's not being described as temporary. He's started a new Crowdsource 2 channel.
And who can ever forget Jason Goodman's Internet-breaking phone call with Douglas Gabriel, which I posted on March 28th? It left me feeling as if I'd been roughed-up and mugged. I was very let down by the unnecessary roughness but it was real and I thought it merited attention, so I posted it.
That same day, my website was hit with the first major distributed denial of service (DDoS) attack in over six months, which disconnected the site's database from the server for a few hours on a very rare afternoon when I was away from my devices. It seems people all over the space are getting hacked and infected.
In the spirit of Mercury Retrograde, which is all about re-doing and and do-overs, I'm posting Douglas Gabriel's interview on Lift the Veil, which is long but it answers a lot of lingering questions that people have about Douglas Gabriel and his past as an NSA cryptologist, as a young Jesuit, as an Anthroposophist, etc. – and he takes callers' questions, with fully-researched answers vetted by his "conclave" of retired intelligence personnel, including who did 9/11 (Bush Senior and Dick Cheney, covered up with the help of Robert Mueller, et al), George Webb, Jason Goodman, Imran Awan, the DNC Leak, Seth Rich and the Federal Reserve Bank.
I was completely appalled by Gabriel's behavior in the Jason Goodman call, especially because I'd been so positively-impressed by his Aim4Truth.org website and American Intelligence Media YouTube channel. My sense is that he probably has a temper problem that has sabotaged his efforts in the past. Still, I am hard-pressed to find articles and audios anywhere close to the quality that he brings and having watched this whole interview very carefully and watched him answer many caller questions, I feel as if he's fully acquitted himself.
At roughly 32 minutes, when discussion is begun on the Jesuits, Freemasonry, my youtube sound disappeared 🙂 Does this tell us something?
Here, therefore, is the Forbidden Knowledge link, which I cannot import for you:
https://forbiddenknowledgetv.net/gabriel-do-over/