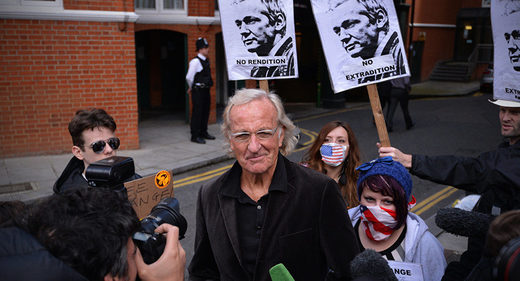 Ecuadorian Foreign Minister Maria Fernanda Espinosa says Quito and London "have the intention and the interest" of reaching a "definite agreement" on the status of WikiLeaks founder Julian Assange. Speaking to Sputnik, renowned journalist John Pilger, a personal friend of Assange, said that the move is a betrayal by Ecuador's new president.
Sputnik: Julian Assange has been cut off from communications for a month and a half now. What is known about his physical condition?
John Pilger: His physical condition is not good at all. He hasn't had natural light for almost six years. He has a persistent cough. He is suffering physically [much the same as] anyone who is imprisoned, effectively, [and] without even the opportunity to go outside and exercise.
He's been denied even the right of passage to hospital. They say 'yes you can go, but we're not going to allow you back.' So the examinations that he needs he hasn't been able to get.
Sputnik: Ecuador's foreign minister has said that the country is in talks with Britain about Assange's fate. What can you tell us about this?
John Pilger: I can say that the new government in Ecuador led by Lenin Moreno is a disgrace. They have defamed the good name of Ecuador which under the previous president, [Rafael] Correa, had elevated itself to an extraordinarily moral position in granting Julian Assange political refuge.
Politically refuge is something that is internationally recognized. It's not something you can then water down. Well that's what Moreno's government has done. He's negotiated with the British government over the head of Julian, at times not even involving him and his lawyers.
It's quite clear that this government has deferred to the United States, because it cut off Julian's contacts – all internet, all phone, all visitors apart from food and lawyers on the day that US SouthCom deputy commander general Joseph DiSalvo arrived in Quito, Ecuador to renegotiate a US base that Correa had shut down. [This is] too much of a coincidence.
Ecuador has to take responsibility for Julian's state now, because he is in their embassy, and indeed a citizen of Ecuador. But Ecuador is a tiny country, and in the historical pattern has been pressured massively by the United States, which of course is working its way right through the governments that might have challenged US interests in Latin America, from Venezuela to Argentina to Bolivia and now to Ecuador…
The US has a very, very clear agenda here. It has an indictment ready for [Assange], a draconian indictment that it has been working on for a number of years. The FBI apparently has the biggest file apparently in its history on him (God knows what's in it).
The vindictive pursuit of Assange [is happening] for one reason only: he told the truth. He revealed through Chelsea Manning…the war crimes of the United States in Afghanistan and in Iraq; and of course last year revealing the machinations of the Democratic National Committee in trying to gerrymander the result [of the primary vote] in that country, which it successfully did…
Julian Assange is an editor, a publisher, and a journalist no different from if he was working for the New York Times or the Guardian in London. But they've been able to defame him as some kind of spy…As a result, their indictment is indeed draconian, and could well result in an extradition that puts him away in some hellhole for the rest of his life. And that of course is why he's in the Ecuadorian embassy.
John Pilger is a veteran journalist and documentary filmmaker whose films have won major awards in Britain, Europe and the United States. The views and opinions expressed by Mr. Pilger are those of the speaker and do not necessarily reflect those of Sputnik.Comment: See also:
"A friend that works with our Civil Defense shared to just be prepared [be]cause the data is going OFF THEIR CHARTS, setting off all kind [of] bells at work."

[…]

The highly-controversial Puna Geothermal Venture (PGV) geothermal power plant has become a major issue of concern among U.S. government insiders who fear an imminent explosion of the plant may cause a massive tsunami and wreak havoc in the region due to the recent uptick in volcanic activity on Mount Kilauea.
29 votes in favor, two opposed and 14 abstentions. The U.S. and Australia opposed, the UK abstained.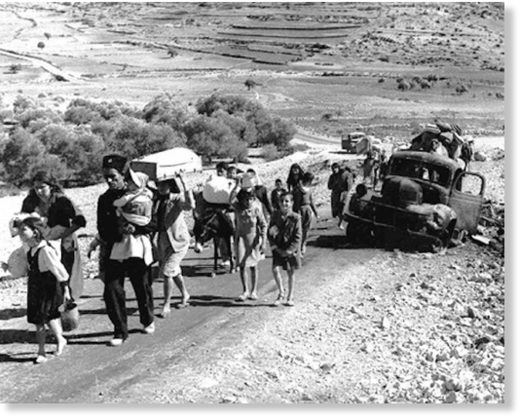 On May 14, 1948, Israel declared its independence. Each May 15, Palestinians solemnly commemorate Nakba Day. Nakba means catastrophe, and that's precisely what Israel's independence has been for the more than 700,000 Arabs and their five million refugee descendants forced from their homes and into exile, often by horrific violence, to make way for the Jewish state.  . . . Click article title to continue reading.
 * * * 
The following two articles will be helpful to those interested in gaining insight into the sophistication of Russian diplomacy:
. . . and perhaps we are also seeing in the next article another bit of diplomacy on the part of Russia, which has chosen to wait a long time — perhaps until the wind has changed . . . 
[…] President Donald Trump's decision to break a nuclear deal with Iran by re-imposing economic sanctions poses a potential threat to European companies doing business in Iran.

Merkel said that the Trans-Atlantic partnership was valued by Berlin and that European nations are currently discussing ways in which the EU can provide a safety net to companies dealing with Iran. The German leader added she hoped Tehran would see the benefit of observing the terms of the deal despite Washington's move.

European companies are similarly threatened by potential sanctions from the US over joint projects with Russia, particularly the Nord Stream 2 gas pipeline. Putin sarcastically remarked that the attitude to the project demonstrated by the Trump administration is a remarkable example of continuation of the policies adopted by his predecessor, Barack Obama.

"[What Washington wants Russia to do] is to support Ukraine, which doesn't really want to develop its relations with us, but is very pleased to get our money for the transit of the gas. About two to three billion dollars a year," Putin said. "We are not against it, in fact. We are ready to keep the transit, if it is economically feasible. This feasibility may be reached through negotiations."

Nord Stream 2 will deliver Russian natural gas directly to Germany, the biggest buyer of the fuel in Europe. With the pipeline working, the demand for transit services from Ukraine and other Eastern European countries would be reduced accordingly. Kiev and other nations, which would lose out from the change, claim that the pipeline is a political project that doesn't make commercial sense.

The US, which wants the EU to reduce the share of Russian gas it imports in favor of liquefied natural gas (LNG) produced in America, is threatening sanctions for European companies involved. "Donald is not just the president of the US. He is also a robust businessman, so he is furthering his business interests, I believe," Putin explained, adding that American LNG is currently about 20 to 30 percent more expensive than Russian pipeline gas.

Merkel agreed that Nord Stream 2 is a commercial project, but said there were non-economic aspects in Ukraine transit and that Berlin wants to see that transit preserved.

Putin and Merkel expressed their nations' commitment to the Minsk agreement, a roadmap towards peace for Ukraine, and said that a new meeting of the so-called Normandy format, which includes Ukraine, Russia, Germany and France, may soon be convened, but refrained from providing a timeline. [emphasis added ~j] . . . Click article title to continue reading.
Related:
The re-imposition of US sanctions on Iran and Washington's threat to punish European companies for doing business there provides a good opportunity for ditching the dollar, according to RT's Keiser Report host, Max Keiser.

"The US uses the dollar as a weapon to promote US dollar hegemony and the US Empire. The world now sees clearly that the US dollar is a Central Bank enabled Ponzi scheme backed by the extraordinarily violent Pentagon whose multi-trillion dollar budget can only be justified via wars of convenience, torture, and election meddling around the world," Keiser wrote.

"Unfortunately, European corporations are defying the EU and EC by threatening to abide by the preposterous US sanctions and financially censor Iran in ways that will boost the fortunes of these CEOs, but endanger millions of Europeans and people around the world," he added.

According to Keiser, if European companies continue to abide by US sanctions despite the EU decision to nullify them, authorities in Brussels should cut all credit lines to these companies, even if this means fully nationalizing banks in Europe and creating new, crypto-enabled banks.

"The message needs to be sent. Responsible governments need to free global trade and finance from the corruption of the Central Banks, their minions in the banking sector, and the intolerably rapacious US dollar-as-world-reserve-currency based system that bilks the world to pay for America's military adventurism and US dollar Ponzi scheme," he concluded.

On Friday, the European Commission enabled the Blocking Statute of 1996, which forbids EU companies from complying with the extraterritorial effects of US sanctions, allows companies to recover damages arising from such sanctions, and nullifies the effect in the EU of any foreign court judgements based on them. [emphasis added ~J]

RELATED, Op-Eds: Trump uses NATO to police 'disloyal' Europeans . . . and . . . With Iran sanctions Trump made Europeans look like the fools they are
 * * * 
This article/video strikes me as being very sick~
. . . as does this call to bomb the Crimea Bridge . . .