When I lived on Capitol Hill, my best friend was a black woman whom I met when as the only white woman in the choir, I sang with the Unity of Washington, D.C. choir that was at that time just down the street. She held my hand when I went through the nightmarish psychological experience called Annihilation (the attempt to annihilate a soul) and said the 23rd Psalm to me. I have a very special love for her. She introduced me to the musician, Jeff Majors, and I call on his music in difficult times. As we enter what I believe will be difficult times, I'd like very much to share it with everyone; I find it very comforting.
Love and hugs,
~Jean 🙂
 * * *
. . . read the article, because there is a discussion of the translation, which the article (and only the article) corrects, and I think rightly so. The title of the video suggests that Putin owns Macron in less than a minute. I think he owns him in one word — and I think those present agree! Watch and see what you think 🙂
Pepe Escobar: The Syria connection to Iran, Afghanistan and China, by Pepe Escobar . . . this article describes the incredibly nuanced situation among these three countries. Unfortunately, most in America have been schooled that all life can be reduced to a simple, basic answer, so we do not see the value in taking the time to read, discuss, and understand, as do these countries — and their citizens, what is really going on in the Middle East. As an American citizen, it's pretty evident to me that we deliberately have not been schooled to understand that life is nuanced and subtle, and unfortunately, as Pepe's article clearly states, our military and our President do not seem to understand this reality either. This is likely because they have gotten their way for a very long time using brutal 'force', and they haven't had to school their brains to deal with subtleties — as in Trump's unrealistic reality show statement "You're fired".
Recently, I was shocked at the applause Nikki Haley received at highly regarded Duke University, where she spoke — because of what it signified:These young people have spent a small fortune on their educations — to learn only how to be cogs in the corporate wheel. I doubt we can expect any new or creative ideas to come from them. I suspect our graduates at the military academies also aren't receiving the kind of training they truly need to prepare them for the world that is soon to arrive — like it or not! I doubt very much that any of these young people plans to have 'skin in the game', but the fact is that they might be rather surprised at what the 'real' world has in store for them. I hope they will have the courage to open their eyes wide, and to step forward and help to make the transition with us, the American people, to a multi-polar world, in which force is no longer the currency of strength..
 * * * * * * *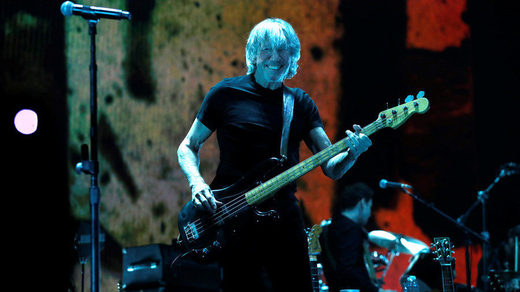 Roger Waters, the former Pink Floyd singer, has once again mixed the worlds of music and politics by displaying a banner in support of WikiLeaks founder Julian Assange at a concert in Berlin. 

The neon red text, which read "Resist the attempted silencing of Julian Assange," was projected onto a black backdrop before his concert on Saturday night. Waters, who is known for making radical political statements on stage, is an admirer of Assange and has previously featured images of the whistleblower in his shows. 

Assange is unlikely to see the message of support, however. Housed in the Ecuadorian embassy in London since claiming asylum in 2012, the Australian has been banned from using the phone and internet for several weeks. He is also prohibited from having visitors. – Click article title to continue reading.
 * * * 
REPOST – listen carefully when he speaks of CERN. What do you hear? My knowledge of CERN is that it is managed by the Dark.
The video below is only relevant up to about the four-minute mark.
 * * * 
* * * 
What you will hear in the video below is one genuinely caring person, Scott Bennett, who has focused on a single area— and done it extremely well, and a second person whose interview skills are terrific, but who very much needs to take the time to do his homework and gain more background before he interviews a person like Scott. If you have followed my blog, you will begin to understand that it isn't possible to live day in and day out 'in' 3D  — on trains and planes, and understand more than a limited bit of what is presently happening on Mother Earth. Unfortunately, I am afraid many people will listen to this discussion and infer these two men have the larger 'truth' of which they speak, and I think they have missed quite a bit.
I began to shake my head at the end of the first 15 minutes — as if there is any intention at all to let the US down easily when the financial system collapses! The idea, in my opinion, is to destroy the US in order to make it totally subservient to what-we-are-to-believe is the coming power structure. As my readers know, I do not subscribe to this belief.
Russia, China, and Iran are merely trying to survive the onslaught from the US — and, yes, in my opinion Trump is deeply involved in this onslaught. (I can remember how I was so totally sucked in by Obama and his wife and children. It was a very hard landing for me, and I suggest those who are still enamored of Trump are in for that same hard landing.) Scott has been traveling so much that he still seems to think Trump is an anti-globalist, which he might be, but it's rather obvious he still believes in US hegemony. (Many pieces I have published recently indicate this as a fact it is hard to deny.) I have long thought that the only reason he is bringing down the Deep State is because they are in conflict with his ideas of how to go forward.
Jason — and I'm not sure about Scott, who may have been polite and did not correct Jason — apparently does not know that Zionists are not — and were never — Jews, except that they, a small country in ancient Eastern Europe called Kazahria (in the area of present-day Crimea), 'converted' as a result of political expediency. While they control Israel, they simply use the Jewish people as their puppets. Jews are known as excellent bankers and businessman, and when the Zionists are done with them, they are known to destroy them so they can tell no tales. The Rothschilds are Zionists.
When Scott spoke of Larry Klayman with respect, Jason, who interviewed Larry recently, failed to mention to Scott that Larry told him he is a Zionist. I sincerely hope it is in name only. Even so, I would never allow him to become the Special Prosecutor to go after the Clinton/Bush cabal, a post he is actively seeking. It is hard to believe that the Zionists in our government would ever allow him to work freely,
At the very end of the interview, when Jason spoke of Israel being a puppet of the United States, I was really shocked and wondered . . . and wondered . . . and I will make no other comment here, except to say that this is a perfect example of the fact that many good people, as well meaning as they may be, who are busy living in 3D can't possibly have put togethr much of the complicated story of our present times, so it behooves us to listen very carefully to what they say.
All I can do, sadly, is to invite you to listen to this interview . . . and see if you can agree with what I have just described here. Hopefully, I've begun to make my point. Hugs, ~Jean
The US Government initiated the 'new Cold War,' while Russia's Government reacted to America's aggression, which aims to place nuclear missiles in Ukraine, less than ten minutes flight-time from Moscow. Click article title to continue reading.
. . . the article by The Saker (above) and the article by Paul Craig Roberts (bel0w) both express a negative attitude towards Russia's decisions as to its way forward . . . You might find them interesting.
China's decade-long assistance to Africa has borne tangible results with thousands of kilometers of new railroads and dozens of ports, airports and power stations built due to Beijing's investment projects. According to some researchers, Africa may emerge as a new global powerhouse.

China has been facilitating Africa's rise as a potential "global manufacturing powerhouse," insists Irene Yuan Sun in a new book eloquently titled "The Next Factory of the World."

The book reveals how Beijing is now sharing its experience and best practices with the African continent, having transformed its own country into a production workshop over the past few decades.

According to research from the Russian International Affairs Council (RIAC), China has become the main trade partner of African countries since 2009. While in 2000 the total turnover between China and African states amounted to just $10 billion, the figure skyrocketed to $220 billion by 2014. Click article title t continue reading.
The world's push towards de-dollarization continues to accelerate as Americans go about their daily lives worrying more about blasphemous comedians, participation trophies, and Kim and Kanye's traitorous behavior.