UPDATE: When I finished my blog, I treated myself, and I've decided to also treat those of you who appreciate the wisdom of this marvelous woman, Colette O'Neill, whose work I have just discovered. The title of this video, The Arrogance of Certainty, caught my interest 🙂
 * * *
!!! This video from David Icke never made it up yesterday. I am sorry — and maybe it was trolls — when I just did a search for it, it wasn't available to me on Youtube, so perhaps this is their way of saying that, yes, this is a very important video: Here it is now, plus the introduction I wrote for it:
Finally, I come to the main act of this post, and once again it is David Icke. I listened to the entire video in three sections, because I wanted to be clear on what he said to us, presumably sometime late last year. In the first half, he lays the foundation for understanding the energetic/vibrational importance of the symbolism so prevalent in our world today. I feel comfortable sharing that I have had spiritual experiences beyond this realm, and one way I communicate with the other side is via the Tarot cards, which I understand are totally accurate energetically; therefore, David's words make complete sense to me, and I generally agree with them. His ideas are basic and extremely well documented, and I urge you to make sure you understand them fully. If you do, you may find you want to skip to the second half.
In the second half, David makes clear how our recent history has been controlled, starting with Father Bush, running through all our Presidents, and excluding President Trump. (I have previously published a video about David's opinion of President Trump, and I think his opinion is proving to be accurate.) He explains what we hear in the MSM, what the next layer of truth is, and he goes right on peeling the many layers away, until we understand the many facets of what is really going on, far deeper than the lies which the MSM tells us.
For those of you interested in a deeper understanding of what is happening here on Mother Earth, I strongly suggest you will find this video opens doors to a very deep understanding.
All the chatter going on in the world right now pales, IMO,  beyond this knowledge.
Hugs,
~Jean
 * * *
. . . I've copied below just one tiny bit from this awesome article. It is about our getting good information. How can we possibly act with any wisdom, when we are lied to day after day? People are just trying to survive all the fear they're being fed, and they don't have time to figure out this complex 'mess' we are now in. 

It is a MUST READ
DB: What would you say have been the contributions that Julian Assange has made in this age of censorship and cowardice in journalism? Where does he come into the picture? 

JP: I think it comes down to information. If you go back to when WikiLeaks started, when Julian was sitting in his hotel room in Paris beginning to put the whole thing together, one of the first things he wrote was that there is a morality in transparency, that we have a right to know what those who wish to control our lives are doing in secret. The right to know what governments are doing in our name – on our behalf or to our detriment-is our moral right. Julian feels very passionately about this. There were times when he could have compromised slightly in order to possibly help his situation. There were times when I said to him, "Why don't you just suspend that for a while and go along with it?" Of course, I knew beforehand what his answer would be and that was "no." – Click article title to continue reading.
 * * *
 * * * 
I was able to listen a bit, and apparently the USGS is changing the earthquake numbers . . . 
* * *
CONCLUSION: 

Trump and Kim will be able to agree only on a broad statement of principles that reflect Pompeo's meetings with the North Koreans, leaving significant differences remaining to be resolved in negotiations over the coming weeks.

But this summit between what is surely the oddest couple in modern diplomatic history may well launch the most serious effort yet to end the U.S.-North Korean conflict. – Click article title to continue reading.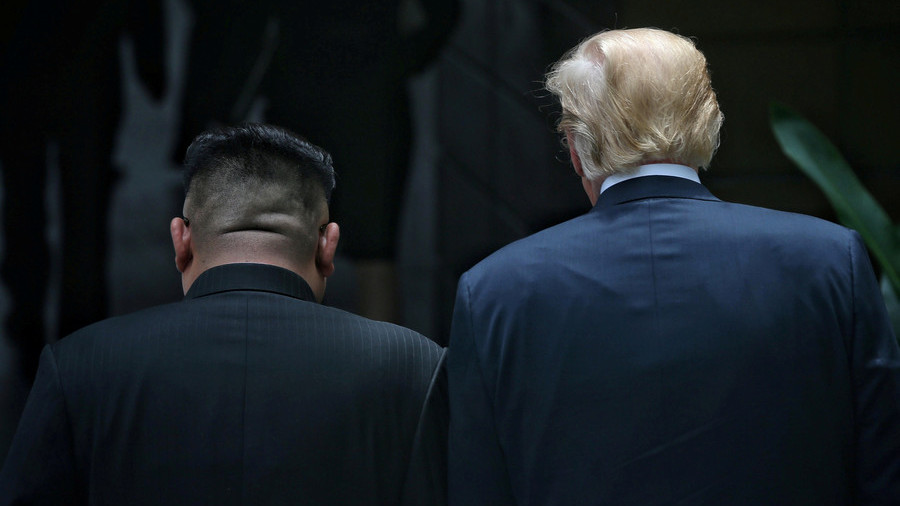 And now we get to the real reason behind the US-North Korea summit.

In talk that was reminiscent of then-candidate Trump's famous comparison of the Israel-Palestine conflict to a land deal during the Republican primary debates, Trump told a group of reporters Tuesday that he had floated the prospect of rebuilding North Korea's coastline to feature beachfront hotels and other developments, allowing the developer-in-chief to relate to Kim Jong Un through perhaps his only life-long passion: Real estate.

Trump says he showed Kim an iPad that reportedly included details about how, instead of ballistic missiles, North Korea could have "some of the best hotels in the world." – Click article title to continue reading.
Sott Comment: The US forces stationed in South Korea have not received any guidance on cessation of military exercises on the Korean Peninsula, following statements made by US President Donald Trump in Singapore after his talks with North Korean leader Kim Jong Un, Spokeswoman for US Forces in Korea Lt. Col. Jennifer Lovett told TASS on Tuesday.
"We have received no updated guidance on execution or cessation of training exercises – to include Ulchi Freedom Guardian. In coordination with our ROK partners, we will continue with our current military posture until we receive updated guidance from the Department of Defense (DoD) and/or lndo-Pacific Command (INDOPACOM)," she said.
 * * * 
All hell broke loose at the G6+1, aka G7, while the China-led Shanghai Cooperation Organization (SCO) aimed at global integration and a peaceful multipolar order…
– Click article title to continue reading.
Sott: Interview Bashar al-Assad: Theresa May 'staged the chemical attack' in Syria . . . Not too long ago, President al-Assad would not have been comfortable naming names. Apparently, we are making progress, because now the truth is so out in the open that he can call the warmongers out by name. (BTW, this interview does not appear to have been taped.)
June 11, 2018

The genocide in Yemen is going to start tomorrow. Eight million are already on the brink of starvation. Eighteen out of twenty-six million Yemenis live in the mountainous heartlands (green) which are under control of the Houthi and their allies. They are surrounded by Saudi and U.A.E. forces and their mercenaries. There is little agriculture. The only supply line from the outside world will soon be cut off. The people will starve.
– Click article title to continue reading.
Increasingly, America's incoherent policy regarding the Kurds and Syria more broadly has put the more than 2000 US troops occupying northeast Kurdish heavy regions of the country in the middle of a Kurdish-Turkey-Damascus final showdown for the future of Syria. – Click article title to continue reading.
* * *
The Gateway Pundit. . . forgive me if I suggest the news on this topic is only fit for supermarket tabloids — or better still a soap opera that goes on and on for years. Nothing ever happens, not really — except a lot of DRAMA on a very low level.